POSTAPO – CHEMICKÉ ZBRANĚ (2): Principy použití a jejich účinnost
Minule jsme si nastínili, že chemické zbraně provázejí lidstvo prakticky celé dějiny, což je dobré vědět, ale ještě z toho nelze vyvozovat, jak se proti nim chránit (třeba při zneužití teroristy). A k úvodu do této problematiky se dostáváme nyní, kdy se zaměříme především na technické prostředky a okolní podmínky k použití chemických zbraní…
Předně si musíme připustit, že ačkoli chemické zbraně mají nějaké zákonitosti, které nahrávají tomu, aby byly použity za určitého počasí a dalších podmínek, neznamená to, že je nějaký blbec nepoužije sic třeba méně efektivně, zato v den, který je z jeho pohledu nějak symbolický, aniž by byl strategicky vhodný. Přesto uvažujme tak, že pořídit chemické zbraně a provést s nimi útok je poměrně náročné (drahé, rizikové), takže ani tomu nejhloupějšímu teroristovi se s nimi nebude chtít vyloženě plýtvat v nepříhodných podmínkách.
Otravná látka + technický prostředek, který ji nese a distribuuje
Chemické zbraně se skládají z vlastní otravné látky (ty budeme jednu po druhé řešit v dalších dílech) a pak také z technického prostředku, který je někam dopraví a rozptýlí. Což jsou jak důmyslné armádní mechanismy, tak třeba i velice primitivní teroristické. Nejjednodušší a i vojensky nejstarší je aerodynamický způsob, kdy prostě natáhnete hadici od tlakové láhve naplněné bojovým plynem k nepřátelským zákopům a otočíte kohoutkem. No, vlastně ještě jednodušší je to, co udělala japonská sekta v tokijském metru, kdy jen propíchla sáčky se sarinem naostřeným deštníkem.
Další jednoduchá varianta, sic už potřebuje technický prostředek, je "postřik". Potřebujete "práškovací letadlo" – v dnešní době třeba i jen dron s podvěšeným roztřikovačem. Použít se dá i termický rozptyl, což zní sice složitě, ale takto fungují dýmovnice – hoření odpařuje chemickou látku. Jednoznačně nejrozšířenější v současném vojenském použití je rozptyl výbuchem, který může být umocněn o klasické střepiny. (Vniknutí otravných látek do organizmu je samozřejmě rychlejší skrze otevřená zranění.)
Široce dostupnou chemickou zbraní, s níž se máme možnost potkat i mimo válku nebo teroristický útok, protože patří do standardní výbavy policejních a jiných pořádkových jednotek, je ruční chemický granát. Můžeme si jej ovšem opatřit i my sami jako sebeobranný prostředek v podobě ručního spreje. Ano, to je také chemická zbraň! V dalších dílech si podrobně probereme, jak působí (a jak se bránit působení) nejčastějších náplní tohoto prostředku, což je plyn CS (a podobné) nebo tzv. pepřák…
S dalšími vojenskými prostředky k šíření chemikálií už se jen tak nesetkáme. No, možná nadšenci s minohledačkou, protože jako jedna z obran prvorepublikového pohraničního opevnění byla rozmístěna i čs. chemická mina vzor 38. A takový pozemní prostředek v modernějších podobách se v mnoha armádách vyskytuje dodnes, akorát o tolik účinnější, že pro toho, kdo si jej "vyšlápne", bude veskrze smrtelný.
Chemikálie mohou být, jak jsme už naznačili, součástí běžné dělostřelecké munice. A samozřejmě raketové - sovětské rakety SCUD B nesou přes půl tuny otravné látky, při dostřelu přes tři sta kilometrů. Totéž americké Pershingy. Příhodné je samozřejmě zasáhnout takovými zbraněmi velké skupiny vojsk s malou dynamikou. Tedy ne pohybující se malé jednotky, ale větší základny nebo obranná postavení.
Kdy je vhodné nasadit chemickou zbraň
Každého zákonitě napadne jako první faktor ovlivňující účinnost chemických zbraní vítr. Opravdu by bylo hloupé vypustit do vzduchu otravný plyn v případě, že by vítr foukal na vlastní vojska. Roli ovšem hraje také teplota vzduchu a teplota půdy. A dále to, zda prší, sněží, je mlha… Velice obecně lze z chování plynu a aerosolů vyvodit, že nejlepší výsledky od použití chemických zbraní můžeme očekávat, pokud je nasadíme v den, kdy je zataženo, vítr k nepříteli fouká rychlostí 3 km/h, teplota je kolem 20 C, v lokalitě je volný terén bez překážek a zbývá tak hodina a půl do soumraku nebo naopak už před hodinou a půl svítalo.
Co je třeba mít dále na paměti, je skutečnost, že po odvátí primárního otravného mraku zůstává na původním místě zamořený terén, z něhož se použitá látka dál odpařuje a tvoří tak mrak sekundární, opět unášený větrem. Z toho lze vyvodit poučku: nesundávejte plynovou masku předčasně, resp. po úniku ze zamořeného místa se na něj nevracejte. Přitom pro představu – látky jako yperit, sarin, soman a VX se šíří v primárním oblaku průměrně 20-30 km od dopadu rakety (10 km dělostřelectvo) a v sekundárním oblaku s časovým odstupem ještě tak deset km.
Nu a za týden si řekneme něco k dělení otravných látek.
Pozn. autora: Když jsem po útocích v Paříži napsal speciální cyklus o terorismu, nejvíce zaujala dvě témata – chemické a biologické zbraně. To proto, že jsou teroristům dobře dostupné, účinky mohou mít strašlivé a těžko se jim brání. Prevencí občana je vědět o nich co nejvíce (nikoli nutně nosit v batůžku plynovou masku). Takže jsem přes Vánoce našprtal tři hasičské učebnice a vybral pro vás to podstatné, na pokračování každý týden.
*zdroj: CBRN chemické zbraně, J. Matoušek, P. Linhart, Sdružení požárního a bezpečnostního inženýrství, edice SPBI Spektrum 43.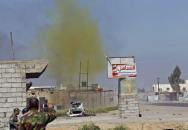 Pro přidání komentáře musíte být přihlášený.