POSTAPO – díl 5: Globální apokalypsa
A máme tady poslední díl věnující se přežití pohrom všeho druhu, kdy jsem postupoval od těch prostorově omezených k větším, až zde máme apokalypsu v pravém slova smyslu. Totální likvidace světa, jak jej znáte. Pokud by někdy přišla a vy jste okamžitě nezemřeli, tak buďte připraveni…
Nejprve musím říct něco o apokalypse jako takové. Ta je starobylým pojmem a dokonce literárním žánrem, který označuje zásadní změnu životních podmínek, společenského uspořádání, zkrátka jak řečeno výše – světa, jak jej známe. Ne nutně vyhubení lidstva. V náboženském pojetí se obvykle někomu blížící se katastrofa zjeví včetně návodu, co udělat, jak přežít.
Laikům je nejznámější asi příběh Noema a jeho velké archy, na níž přežijí páry všech živočišných druhů velkou potopu. Tento a další starozákonní motivy zpracovává Zjevení svatého Jana (poslední kniha Nového zákona) – vyjíždějí čtyři apokalyptičtí jezdci: mor, válka, hladomor, smrt… Takže ano, hodně lidí u toho umírá, lidstvo je tak trestáno za své hříchy, ale ty, kdo vědí, jak se zachovat (resp. se chovali dobře), čeká boží království – třeba i tady na zemi. Post-apo…
Takže, co nás může opravdu masivně hubit? Totální jaderná válka, nějaká opravdu zákeřná epidemie, srážka s velkým vesmírným tělesem… však to znáte z filmů.
Bude dost záležet, zda o blížícím se nebezpečí dostaneme varování. V tom případě myslím, že by apokalypsa vypukla okamžitě. Všichni se vyrazí zásobit, zároveň se nikomu nebude chtít chodit do práce. Něco jako právě teď těsně před Vánoci, akorát 1000x horší. Takže vybrané obchody už nikdo nezaveze. Vlastně nebude fungovat prakticky nic. Za to se najdou tací, kteří si budou chtít přilepšit aspoň na poslední dny svého mrzkého života, takže vás bez zábran okradou nebo znásilní. Někteří se dají na modlení, jiní se budou snažit trávit čas s rodinou, někteří začnou předělávat sklep na kryt…
V zásadě lze předjímat, že je lepší lidem nic neříkat, resp. zvěstování konce světa co nejvíce oddálit. Pak budou mít výhodu ti, kdo jsou trvale preventivně připraveni (třeba mají ten kryt se zásobami), aniž by se jim pletli do cesty zbylí, ti nechť tráví poslední hodiny života v tom chaosu, který vypukne (nějakému moralistovi vždy nakonec rupnou nervy a tu informaci zavolá do televize).
Co se týče problematiky krytů, tak tu lze na internetu velmi dobře nastudovat, vlastně si můžete rovnou nějaký kryt koupit, pokud na to máte. Nebo prostě stáhnout plánek, podle kterého překopete svoji zahrádku. Problém je, že ne každá katastrofa má takovou podobu, kterou lze přežít v krytu.
Zvláště v soukromém bunkříku nakupíte zásoby nejvýše na tři měsíce, takže jste limitováni tím, po jakou dobu bude zemský povrch neobyvatelný. A samozřejmě odolností krytu. Existují výpočty, kolik lidí musí přežít, aby svět obnovili – je to 5000. Nečekejte, že zrovna vy budete vybrán(a) do nějakého toho superkrytu ve skalním masivu, jímž jistě disponují USA a kde jsou zásoby tak na dva roky.
Nicméně představujme si, že katastrofa je celkem milosrdná k naší poloze v srdci Evropy. Například obří meteorit žuchne do oceánu na opačné polokouli. Přežene se nějaká tzunami a hladina moře se dočasně zvýší o 100 metrů. V tom případě je většina Česka na suchu, máme konečně moře (kousek za Pískem). A přesto pořád nemáme vyhráno…
Následující roky bude nebe zatažené, žádné sluníčko, hodně deště, zima, neúroda, v tom moři neuvěřitelný bordel, občas bárka s přeživšími odjinud, zatímco nemáme dost jídla a pitné vody ani sami pro sebe. Možná je budeme muset akorát tak zardousit a okrást – ne o peníze, ale o sušenky, pokud mají nějaké po kapsách. Samozřejmě v prvních měsících nejde elektřina (potom jen lokálně), nemáme odkud vozit ropu, takže doprava leda tak na kole a povozu s koňmi, pro které ale nemáme žrádlo a raději je semeleme do salámu pro sebe.
Hodně lidí, kteří přežili prvotní úder, umírá postupně na podvýživu a nemoci. Aspoň zbývá více jídla na ostatní, ale zase chybí a zejména později budou citelně chybět jako pracovní síla k obnovení společnosti, obsazení a obdělávání půdy, z níž se postupně stahuje voda, k budování nových měst atd.
Je přirozené, že přeživší se stáhli do jakžtakž zachovaného místa a do společenství dalších lidí, ale koncentrace mnoha lidí na malém prostoru s omezenými zdroji nikdy nedělá dobrotu. Místo, aby si pomáhali, se budou mezi sebou vraždit. Nová situace si vyžádá nový společenský řád. Zřejmě diktátora. Čím tužší režim, tím efektivnější. V počátku bude přijímaný, protože chápán jako dočasný. Jak dlouho bude dočasně?
No, takže třeba takto by mohl vypadat ten pravý post-apokalyptický stav. Abyste v něm uspěli, tak to bude především o vaší hlavě, dovednostech, ukrytých zásobách. Asi bude nejlepší postavit si chaloupku někde v horách, dál od města nebo tábora ostatních přeživších. Takové místo byste si mohli budovat dopředu, navozit tam ani ne tak zásobu potravin, jako spíše pracovních nástrojů.
A další si musíte umět vyrobit a také je použít. Nebudete mít internet, abyste tam našli návody. Takže zodpovědná příprava spočívá v tréninku survivalu a vůbec běžných dovedností našich prapředků už teď. Sice byste si mohli nakoupit všelijaké příručky a ty si na vyhlédnutém "záložním" místě někde v lesích zakopat, ale po apokalypse může být vše jinak a vy se tam nedostanete. Prostě opravdu jediné, co máte, je vaše hlava. Používejte jí.
A to byl konec tohoto seriálu. Jak jsem avizoval, vrátím se k některým tématům, jako je ochrana před biologickým, chemickým a jaderným zamořením, proberu je podrobně, zodpovědně, bez legrácek. Ale až v novém roce. Přeji poklidné Vánoce, bez katastrof, teroristů a válek ;-)
PS: Bůh si zavolá rabína, kněze a imáma. A sdělí jim, že za tři dny sešle na svět potopu. Kněz se vrátí ke svému lidu, sdělí, že hřešil a má tři dny na modlení, aby se po smrti dostal do nebe. Imám se vrátí ke svému lidu, sdělí, že dělal vše dobře, teď se bude tři dny modlit a pak bude mít šedesát panen. Rabín se vrátí ke svému lidu a konstatuje: Máme tři dny, abychom se naučili žít pod vodou.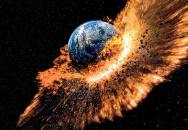 Pro přidání komentáře musíte být přihlášený.