POSTAPO – díl 2: Předvídaná lokální katastrofa a evakuace
Jak bylo uvedeno v úvodním článku, tak v tomto pidi seriálu budeme brát "post-apokalyptické" stavy postupně. Podle nadpisu vás možná napadá, že nějaká lokální povodeň má k ohrožení lidstva daleko. Ale minule jsme si také řekli, že ten kdo jde uprostřed toku rozbouřené místní říčky, to prožívá dost podobně a řeší (sic chvilkově) stejné problémy…
Vlastně je téma lokální krizové situace a evakuace velice důležité, protože na rozdíl od jiných scénářů násobně pravděpodobnější. A současně – paradoxně – velice podceňované. Bavíme se o situacích, které lze předvídat ne v tom smyslu, že vám už potřetí buší na dveře hasiči, abyste opustili dům, protože voda stoupá, ale zkrátka stačí vědět, že některé věci se stávají. Náhoda je blbec.
Kromě toho, že se rozvodní místní říčka, to může být vypuknutí požáru (klidně ve vaší kuchyni), havárie v nedaleké chemičce, vichřice strhávající střechy, vyhození bytového domu do vzduchu vaším sousedem, který pustil plyn a pak škrtnul… Také zrovna do vaší čtvrti může spadnout letadlo, mohou povolit stavidla nedalekého potoka nebo hráz přehrady. Může se stát, že stavbu vaší bytovky developer odflákl, takže jednoho rána vás vzbudí praskání zdí. To všechno už tady – v ČR – několikrát bylo. Vlastně jediné, co hrozí relativně málo, je zemětřesení.
Takže, co s tím? Většina lidí si myslí, že nic – že když už se něco takového stane, tak je postihla (nepředvídatelná?) smůla, při níž při troše štěstí uniknou smrti a újmě na zdraví a pak se o ně někdo postará. Ano i ne. Týká-li se problém skutečně jen jednoho domu, jedné ulice, tak se pro vás vždy a brzy najde místo v místní škole nebo jiném evakuačním centru, záhy přesun do hotelu nebo k příbuzným. Dobří lidé, kteří vás večer uvidí plačícího v televizních novinách, vám záhy pošlou nové oblečení, hračky pro děti, penízky…
Idylka to ovšem není. Domov, který jste museli narychlo opustit, pro vás na dlouhou dobu nebo možná navždy zůstane nedostupný, ztracen. Teprve pak vám dojde, co jste tam zapomněli. Tak třeba nemáte doklady a platební karty, takže se nedostanete ke svému bankovnímu kontu. Pojišťovny by s vámi i ochotně řešily škodní událost, ale vy neznáte číslo smlouvy, dost možná ani název pojišťovny, kde byla ta či ona pojistka uzavřena, opět nemáte ony doklady. Stoupá vám tlak, ale pokud nemáte svoje léky a ordinaci vašeho obvoďáka to smetlo taky, tak… Měli jste štěstí, žijete, ale teď máte fakt smůlu.
Tohle všechno přitom umí vyřešit dvě kouzelná slůvka: EVAKUAČNÍ ZAVAZADLO. Předně, to má být něco praktického: Co takhle vylovit ze dna skříně ten starý batůžek, co už předloni přestal být in? Ale nehledejte ho, když už hoří nebo voda zaplavila první patro. Zajděte si pro něj hned poté, kdy dočtete tento článek. A pak šmejděte po bytě dál. Pokud jezdíte každý druhý víkend na chatu, tak máte balení na dva dny asi dobře zažité. Jenže jsou mezi námi tací, co vytáhnout paty z domu opravdu zřídka.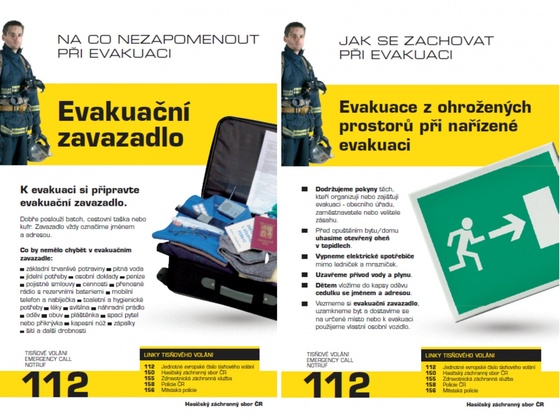 Tak jedeme: Spoďáry, ponožky, triko. Klidně staré tenisky, které jsou zastrčené v rohu botníku, ale jsou tak out, že jste je už dva roky neobuli. Neválí se vedle ta stará fleecová deka, kterou ještě nechcete dát do pelíšku psovi, ale přes gauč už je vám stydno ji přehodit? V koupelně jsou možná do zásoby zubní kartáčky, deodorant – ten kuličkový vám dala loni máma k Vánocům, vy ale zásadně používáte tuhý. Má se to válet ve skříních nebo se to hodí do onoho batůžku?
Léky! Vezměte do ruky nůžky a odstřihněte z plata poslední dvojici prášků, které každé ráno polykáte. Šli jste pro nůžky do kuchyně? Nemáte tam dvojmo nějaký otvírák, starý nožík, plastovou misku? Konzervu fazolí, čínskou polévku, cukr v pytlících, které si v restauracích strkáte do kapsy, protože na oslazení kávy vám stačí vždy jeden? Zapalovač, balíček karet, papírové kapesníky, pár náplastí. Jdete kolem pracovního stolu – co tam se válí propisek a bloků? Ženy jistě najdou i něco přebytečného v šitíčku a kdo si chce hrát (třeba i s dětmi), poskládá do krabičky od TicTaců KáPéZetku.
Takže za chvíli máte luxusní evakuační zavazadlo. Zapomeňte ale na to, že ten starý batůžek, nyní naplněný, zase hodíte na dno skříně. Pěkně si ho pověste na věšák nebo postavte za botník. Když budete utíkat ven, možná budete rádi, že nahmatáte vůbec kliku od dveří. Tak ještě šmátnout po tom batůžku. Pokud chcete jeho obsah tvořit sofistikovaně, tak k tomu hasiči vydali návod, prostě jen do googlu zadejte ta dvě kouzelná slůvka EVAKUAČNÍ ZAVAZADLO.
Ale mějte u jeho tvorby také zdravý selský rozum. Třeba se doporučuje vzít X litrů vody na osobu. To se samozřejmě pronese a zároveň jestli se něco v rámci pomoci zajišťuje jako první, tak pitná voda. Zůstaňte u půllitrové láhve – originální, ne z kohoutku – to by za týden už nebyla voda dobrá, zřejmě ani pitná. Vůbec se dívejte na trvanlivost toho, co balíte – v budoucnu nebudete mít náladu přebalovat evakuační zavazadlo co dva měsíce. Balte aspoň na půl roku.
Důležitá věc – zmínili jsme doklady. A to je úkol na další dlouhý zimní večer (nebo do práce, když vás zrovna šéf nehoní). Všechny ty rodné listy, pasy a občanky, pojistky a jiné smlouvy si naskenujte a uložte na USB flashku, kterou pak ještě nějak voděodolně zabalte a šup s ní do batůžku. K ní ještě nějakou tu hotovost. A kdo je hodně pintlich, naskenuje také svoje lékařské záznamy. (Mimochodem, v USA začíná být dobrý zvykem nosit místo dogtagu na krku nebo v náramku právě flashku s vlastní zdravotní dokumentací – viz třeba). A málem bychom zapomněli – nafoťte si domácnost, její vybavení. Můžete taky doskenovat fotky z dětství. Atd.
Že se tohle vyplatí, vám potvrdí deset evakuovaných z deseti plus všichni ti, kdo jim pak v prvních týdnech po katastrofě pomáhali nastartovat nějaký základní "všední" životaběh.  A jestli se zajímáte o to pravé "hard" post-apo, tak tohle je dobrý základ. Ať už budete utíkat před zombíky nebo jaderným spadem, tak s evakuačním zavazadlem se budete cítit lépe. Do příštího pondělí tedy máte jasný úkol a pak popojedeme.
PS: Jo a ještě dobíječku k mobilu. Ve starých pokynech pro evakuační zavazadlo se píše rádio. No, jestli ho máte, tak ano a pár buřtíkových baterií do něj. Při velké katastrofě by stejně vypadla mobilní síť. Ale kdo dnes má doma tranzistorák? To si fakt řekneme v dalším dílu.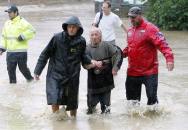 Pro přidání komentáře musíte být přihlášený.