Šetření policejního postupu v Brodě: Co je horšího než smrt?
Asi nikdo si nedělal iluze, že výsledky vyšetřování uherskobrodské tragédie vyústí v policejní sebereflexi. Že ale budou výsledkem "zjištění", jež do celého příběhu vnesou ještě více nejasností a pochybností, muselo vyvést z míry i zarputilé pesimisty. Vyjmenováváme největší nejasnosti...
V prezentaci hlavních zjištění, která je ke stažení zde, uhodí jako první do očí fakt, že policie neví, kolik ran střelec vypálil před jejím příjezdem: "cca 12:36 hod. střelba (20 – 25 výstřelů)". Tak kolik? Pod střelcem zůstaly nábojnice a kulky se nacházely v tělech obětí nebo ve zdech. Chce nám snad policie tvrdit, že někdo z prchajících hostů restaurace si vzal nábojnici na památku? Že to někdo "koupil", ale nevyhledal lékařské ošetření? I kdyby, bude platit vyšší součet. Tedy znovu: Kolik?
Alespoň, že se policie dopočítala, kolik zásahů si odnesla prchající účetní (nebo lékaři něco přehlédli?). Zase ale nemá jasno v čase, kdy se tak stalo: "12:36 – 12:47 hod. střelba na paní účetní (6 výstřelů)." Rozptyl 11 minut je poněkud hodně. Policii pomůžeme - jelikož souběžně sdělila, že účetní byla postřelena poté, kdy už policie věděla, co se děje, bylo to nejdříve ve 12:38. A zároveň se zraněná účetní vypotácela ven rovnou ke zdravotnickým záchranářům. Tak snad záchranka zná přesný čas... mimochodem, má to sem 4 minuty (bez majáků; stejně jako policie).
Na 12:47 se zároveň datuje příjezd první policejní hlídky. Zatímco svědci bezprostředně po tragédii tvrdili, že se na místě střílelo, dokonce ještě poté, co se tato hlídka vydala do restaurace, načež se stáhla a ocitla opět venku, policie nám tvrdí, že po příjezdu této hlídky padl už jediný výstřel – na ni samou. Leda – ta úvaha se jaksi nabízí – padlo před dojezdem hlídky oněch 20 výstřelů, kdežto zbylých 5 už za její přítomnosti. Ale co další tři oběti – byly již skutečně mrtvé?
Bohužel, policie v závěrech svého šetření neuvedla, kolikrát a kam byly oběti zasaženy. Na jedné straně se od počátku tváří, že jim už nebylo pomoci, na straně druhé svoji nečinnost omlouvám tím, že se bála, aby jim sama neublížila. Občan musí logicky dospět k závěru, že je více ohrožen policisty než šíleným střelcem...
Tedy k činnosti policie na místě. První hlídka přijíždí ve 12:47, podle předpisů má vyhledat a eliminovat střelce. Bohužel končí u vyhledání (to se považuje za splnění předpisů). Poté, co na ni vypálí jedinou ránu, stahuje se: "nemohli zákrok dokončit, aniž by ohrozili osoby, které měly být v restauraci," tvrdí policie.
Rána patrně prošla dekorační tabulí u vstupu do restaurace a o málo minula policistu, který tam nahlížel. Na dosah měl jednu oběť a pozoroval střelce, jak na něj míří. Proč po něm policista také nezkusil vystřelit? Držel v té době vůbec v ruce služební zbraň? Kde stál jeho kolega? O tom výsledky šetření mlčí.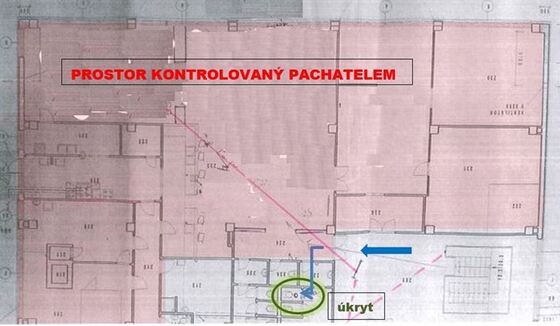 Foto: Brod - plánek restaurace
Kromě toho "nevěděli, zda je pachatel sám či jich je víc", dokonce se mohli bát, že jde o teroristický útok. Co na tom, že ve "12:38 hod. policie přijala první oznámení: uvnitř asi 20 osob, střílející muž." V bujné fantazii hlídky tam mohla být horda džihádistů. Dalším důvodem, proč nedokončili zákrok, byla skutečnost, že v zádech měli další vchod do restaurace. Nabízí se otázka: Proč jím tedy nevnikli dovnitř, když už pozici střelce zjistili a tento vstup by je lépe kryl?
Ze situačního kontextu se naopak zdá, že policie skutečně nemohla bezpečně vysvobodit muže schovaného na toaletě. A jak sama přiznává, chybovala při komunikaci s ním. Mimochodem, věděla o něm od 12:43, ale příliš se podle toho nechovala. Tento svědek je navíc přesvědčen – což zopakoval v reakci na tiskovou konferenci – že policie mohla a měla zasáhnout, nejen kvůli němu samému. Že se měla za čím krýt a mohla využít některý ze tří vchodů do restaurace. Vlastně v ČT24 řekl, že si policie vymýšlí. Vraťme se tedy k vyšetřovací zprávě...
Ve 12:53 přijela na místo první posila – vedoucí místního oddělení a jeho zástupce. Zjišťuje si informace a vyhodnocuje je tak, že proti střelci zasáhne (mimo jiné už ví o zadním vchodu do budovy). "Vedoucí oddělení informuje operačního důstojníka o plánu provést zákrok, správnost jeho rozhodnutí však operační důstojník zpochybní, a to s ohledem na hosty v restauraci – aby se nestalo ještě něco horšího." Už chápete, proč se v nadpisu článku ptáme, co je horšího než smrt?
Operační důstojník tedy nesouhlasí, protože je to ale s ohledem na jeho pozici irelevantní, vedoucí zahajuje kolem 13:00 zákrok. "Postup policistů hodnotíme jako správný," konstatuje vyšetřovací zpráva. Jak je možné, že jako správný hodnotí i "nezákrok" první hlídky, která vzala obětem šest minut naděje, nikde osvětleno mimo výmluv na dveře, teroristy a bezpečnost obětí (!) není.
A pak přichází zlom – střelec volá do TV Prima – reportérovi ve 12:56, policie se to dozvídá ve 13:00. A ruší akci, protože "VZNIKÁ BARIKÁDOVÁ SITUACE A ZAČÍNÁ VYJEDNÁVÁNÍ." Jsou zde dvě ale... Jednak hovor trval 4 minuty a až na jeho konci reportér vytočil linku 158. Chvíli muselo trvat, než popsal obsah telefonátu a než se tato informace donesla do Brodu k zasahujícím hlídkám. Je tedy pochopitelné, že policie uvádí počátek zákroku "kolem 13:00". Cožpak ale neví přesně, kdy zahájení akce hlásil vedoucí operačnímu?
Druhé ale... Reportér, shodou náhod bývalý policista, vypověděl: "V pozadí telefonátu bylo úplné ticho. To znamená, že nemohl být ještě v restauraci. Nebyl slyšet ani žádný provoz z ulice. Buď tedy mohl být v restauraci na toaletě, nebo třeba ve vchodu vedlejšího domu. Bylo to někde, kde byl úplně sám a bylo tam úplné ticho." Mohlo by to znamenat i to, že už byli všechny oběti mrtvé. Také je poněkud zarážející, že střelec klidně prokecal 4 minuty, zatímco je "ohrožován" policejní hlídkou.
O šest minut později začíná vyjednávání: "Pachatel v rámci rozhovorů sděloval vyjednavači, že má pět rukojmí a že nejsou zraněni... souběžně probíhalo i nezávislé zjišťování, zda jsou uvnitř zranění." Jestli filmy o držení rukojmích a únosech v něčem nelžou, tak v tom, že vyjednavači žádají důkaz o tom, že jsou zadržovaní naživu. Co byste usoudili o pachateli, který to nedoloží? Žily v té době ještě některé z obětí a byly třeba v bezvědomí? Byly naopak všechny po smrti? Znovu se vracíme k tomu, že policie tají, jak/nač oběti zemřely a dokonce mlží ohledně počtu vystřelených nábojů.
A ještě jedna elementární informace v policejní zprávě chybí. Kdy spáchal střelec sebevraždu? Bylo to už ve 14:15, kdy přestal brát vyjednavači telefon? Vnikala zásahovka dovnitř o 5 minut později s tímto vědomím? Venku samozřejmě musel být slyšet výstřel. Ne že by to něco na předchozím průběhu události měnilo, ale je zkrátka zvláštní, že to nikde nezaznělo.
Závěr? Nic si z toho nedělejme. Šlo jen o šetření Policejního prezidia. GIBS provádí vlastní šetření a je dost možné, že pakliže budou výsledky opět nedostatečné, vznikne třeba nezávislá parlamentní vyšetřovací komise.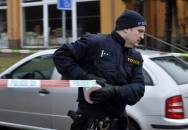 Pro přidání komentáře musíte být přihlášený.