"Když dostane armáda více peněz, prohýří je." Co je pravdy na takovém argumentu?
V různých obdobách, v komentáři na webu i Facebooku, se taková námitka objevila pod článkem o tom, že vláda vzdor proklamacím šidí armádní rozpočet. Takovým konstatováním ale nemůže diskuse končit, naopak by jím měla začít. Takže se pojďme zamyslet, zda by AČR měla dostávat více peněz a zda by s nimi dokázala správně hospodařit…
Jeden čtenář se svěřil s touto úvahou: "Když prohýřím mzdový rozpočet na odměnách určité sortě a pak nezbývá na vyplacení řádných příplatků a musí se plošně snížit, tak na vině není rozpočet, ale funkcionáři. Tudíž se domnívám, že pokud bude rozpočet nižší, ale efektivnější, může z toho vzniknout jev, kdy ve výsledku se pořídí více věcí a kvalitnějších, bude více na platy a přitom z menšího balíku peněz."
To je bezesporu hojně rozšířená ekonomická teorie, kterou nám v praxi před pár lety předváděl Miroslav Kalousek (přestože v dřívější politické kariéře patřil k těm, kdo plýtvali), když potřeboval řešit ekonomickou krizi a vyjít s menším balíkem peněz ve státní pokladně. Pročež všem státním resortům naordinoval vyjít s menším rozpočtem, což "lze" přeci tak, že zefektivní své fungování a ideálně nakoupí totéž, ale za méně peněz.
Nejprve zjednodušený ekonomický vhled
Tahle teorie má dvě úrovně. První spočívá v tom, že se nemá žít na dluh – z makroekonomického pohledu nebudeme-li se zadlužovat, po odeznění krize se snáze vzpamatujeme. Proti tomu stojí jiná teorie, že můžeme přispět k rychlejšímu odeznění krize naopak větším utrácením. Peníze přeci dělají peníze, a tak se také v mnoha zemích vesele vydávaly státní obligace a peníze mohutně tiskly, snižovaly úrokové sazby (aby si firmy a lidé více půjčovali, tudíž utráceli). Český přístup odeznění krize určitě neurychlil, na tempu nabíráme podobně jako ti, kdo eura a dolary tiskli, skutečné zhodnocení bude možné až po letech, kdy se naplno projeví možné nezamýšlené důsledky. Pozdější interpretaci tedy nechme ekonomům.
Druhou úrovní výchozí teorie je ovšem postřeh, že stát je ze své podstaty špatný hospodář, takže plýtvá. Patří k základům pravicových politických programů, že stát by měl být "malý a efektivní", zasahovat do minima odvětví a v nich se nepouštět do žádných složitostí, nýbrž zajistit co nejlépe to, co si občan nemůže obstarat sám. Což jsou nedělitelné statky, kam určitě patří vnější bezpečnost, spravedlnost ad. (K zamyšlení: kultura, zemědělství, průmysl – ty by mohly být v soukromých rukou a fungovat tržními silami).
Protože byrokracie je ovšem ze své (protože lidské) podstaty (jak doložil sociolog R.K.Merton) dysfunkční – hledí si především sebepotvrzení své nepostradatelnosti a bobtná, nelze od ní očekávat, že bude se svěřenými prostředky nakládat optimálně. Bez byrokracie (obecně hierarchického uspořádání zprostředkovatelů státní moci a zájmů) ovšem není možné řídit žádnou velkou instituci, protože vždy je nutná sofistikovaná dělba práce. Takže jistou míru neefektivity musíme brát jako fakt. Žádoucí je zabránit aspoň dalším dysfunkcím, jako je korupce, protekcionismus apod.
Tak je přidání peněz armádě jejich vhozením do černé díry nebo ne?
Kdybychom postupovali cílevědomě a pragmaticky, tak vydefinujeme, jakou armádu potřebujeme a současně můžeme vybudovat a udržovat (na základě odborných studií, ale rovněž s celospolečenským konsenzem – ten by asi i nastal, kdyby byly záměry dobře vysvětleny a zdůvodněny). Poté dokážeme naplánovat počty personálu, počty a druh techniky, dokonce budoucí nákupy náhradních dílů, údržbu budov atd. Tak dojdeme k nějakému optimálnímu ročnímu rozpočtu, který bude v našich finančních možnostech (pokud možno dlouhodobě garantovatelný) a v jehož rámci a podle plánů a harmonogramů bude armáda utrácet.
Je známou věcí, že naše Ministerstvo obrany, potažmo střídající se vlády, toho nejsou dlouhodobě schopny. Čtyřleté funkční období vlád (a to ještě, když mezitím nepadnou) je příliš krátký časový horizont. Jakmile přijde nová vláda, stanoví nový program, klidně v rozporu s předchozím. Ačkoli existují vládní nařízení o té či oné koncepci a strategii, nahrazují je nová, čímž ty předchozí pozbývají platnost. Primární problém je tedy v legislativě, která toto umožňuje – tzn. nezavazuje budoucí vlády k naplnění dřívějších plánů.
V důsledku toho armáda nemůže dlouhodobě plánovat, de facto nakupuje narychlo a bez hlubšího rozmyslu to, co právě nejvíce "hoří", kdykoli k tomu dostane finanční příležitost. Když nebudete vědět, jak velká vám přijde za měsíc výplata, nakoupíte z ní to, co zrovna dochází v lednici, ačkoli z dlouhodobého hlediska byste mohli jogurty ještě tři měsíce oželet. Velká část neefektivity armády je tedy zapříčiněna politickou nestabilitou. Teprve menší podíly neefektivně vynaložených peněz plynou z dysfunkcí její vlastní byrokracie, ať už neúmyslně (nekompetentnost) nebo záměrně (korupce).
Právě proto, že je velice těžké opravdu dokonale plánovat výdaje na obranu, ale současně je žádoucí zajistit ani ne tak jejich výši, jako jejich stabilitu, dospělo NATO k závěru, že by měly překračovat hranici 2 % hrubého domácího produktu. Samozřejmě, v době krize je výsledná suma menší než v době ekonomického rozkvětu, tím se zkrátka kopíruje, co si stát v dané chvíli může dovolit (jaké má HDP). Pokud máte osm dětí a rozdělíte koláč na osm dílů, pokaždé dáte po jednom každému dítěti, ačkoli koláč upečete různě velký. Ten koláč ale s ohledem na ekonomický cyklus zas tolik velikost nemění, přirovnejme to k rozdílu jednoho sousta.
V čem tedy spočívá ožebračování armády a jak z toho ven?
Chyba, která nastala (nejen) u nás, spočívá v tom, že se v dobách, kdy se pomyslný koláč zmenšoval, ještě navíc ubíralo z podílu na obranu. Jako byste měli osm dětí, ale jednomu už nedali osminu, ale jen šestnáctinu koláče. Kdo si naopak o zbylou šestnáctinu polepšil? Nejvíce bobtnajícím žroutem je státní sociální systém. Jistě, v době hospodářské recese přibývá nezaměstnaných, permanentně pak starobních důchodců. Ale v okamžiku, kdy v uplynulém roce osob závislých na sociálních dávkách ubylo, nedává smysl, aby obraně zase nepřibylo. Když dělíte 100 % a jednomu uberete, jiný to dostane, žádné zbytky koláče nikde nezůstávají.
Když jsme zmínili sociální, resp. obligatorní (povinné) výdaje státu, ty má i samotná armáda. Vyplácí totiž vojákům výsluhy a penze (existuje Vojenská správa sociálního zabezpečení), příjemců přibývá (paradoxně čím více musíte propouštět, když snížením stavů chcete šetřit), resp. se dožívají vyššího věku. Padá na to stále více pomyslného koláče. A problém je, že nejsou "vyváženy" ani podíly na investice versus údržbu. Čím starší auto budete mít (protože nemáte na zbrusu nové), tím více utratíte za opravy (až třeba převýší cenu starého vozu nebo dokonce nového). Když odkládáte potřebnou údržbu domu, časem vám, jak se říká, spadne na hlavu. Tedy šetření neznamená jen odsunutí výdajů na později, ve skutečnosti znamená mnohem vyšší výdaje (resp. ztráty) v budoucnu. Tím se rozrůstá tzv. vnitřní dluh naší armády, zmíněný v původním článku.
Jedinou cestou, jak z toho ven, je začít příjmy armády reálně (ne jen nominálně) navyšovat. Není přitom problém zadat a kontrolovat, nač mají být vynaloženy. Je to jednoznačně snižování vnitřního dluhu. Naopak to nemůžou být odměny pro spřátelené funkcionáře, ale to by si snad nikdo nedovolil. Armáda ví, co potřebuje, a oproti civilní byrokracii je výrazně výkonnější. I proto je ovšem důležité dát větší slovo jí, namísto ministerských úředníků (samozřejmě může někdo namítnout, že to odporuje jakémusi kýženému principu civilní kontroly nad armádou – ten se ale má dít v tom smyslu, že sama od sebe nevyhlásí válku, nikoli kecáním do toho, jaké vrtulníky potřebuje).
Nelze vyloučit, že první roky, kdy by armáda měla markantněji vyšší rozpočet, utratila by část nehospodárně. Kdyby ale měla adekvátní rozpočet každý rok, mohla by jej konečně spravovat efektivně.
PS: Myslím, že výše popsané principy a potřeba stabilního a adekvátního financování se netýká jen armády, ale také naší policie a dalších bezpečnostních složek. (Nebo jakéhokoli resortu, avšak ty zbylé mají jiný poměr výdajů, jež směřují především na platy, nikoli investice do techniky.)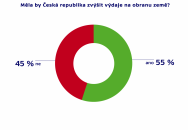 Pro přidání komentáře musíte být přihlášený.