POSTAPO / TERORISMUS – jak být připraven na řádění teroristů (2) – chemické zbraně
Pokračuje návod, jak obstát při teroristických útocích. Po těch v Paříži je to navýsost aktuální, takže se tématu věnujeme od pondělí do pátku. Druhý článek je věnován možnosti, že teroristé zneužijí chemikálie a naplní doporučení svých vůdců, aby nám otrávili vodu, jídlo, vzduch…
Je to až s podivem, že se islámští radikálové dosud spoléhají na výbušniny a AK-47, ačkoli by mohli být daleko více "kreativní" a rozsévat větší hrůzu tichými zabijáky v podobě chemických zbraní. Nenechte se zmást mylnou domněnkou, že otravné látky jsou pro ně hůře dostupné. Ve skutečnosti si je může opatřit kdokoli z nás. A nemyslete si, že tihle fanatici se přidržují Ženevských konvencí. Dříve či později i takový útok přijde.
Vražedné plyny
Sekta Óm Šinrikjó zaútočila sarinem v tokijském metru již v roce 1995. Pro mnoho lidí je to vlastně tak dávno, že tento druh provedení teroristického útoku pustili ze zřetele. Tehdy se pět útočníků vydalo do souprav podzemky s malými sáčky schovanými v novinách. Ve smluvených stanicích je propíchli a nechali sarin odpařovat pod sedadly. Sami vystoupili. Bezprostředně zemřelo třináct osob, tisíce dalších ale byly zasaženy, mnohdy s těžkými následky (oslepnutí).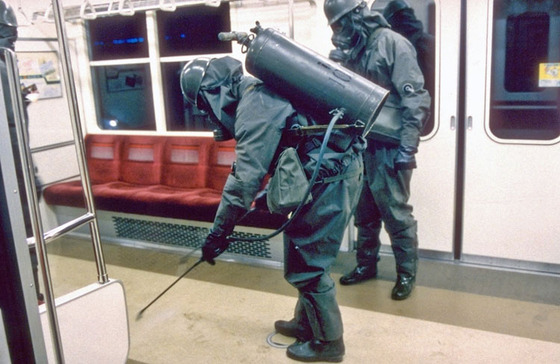 Bojové plyny se s plnou bestialitou "předvedly" v první světové válce. Při té druhé si je – proti vojákům – nedovolil použít ani Hitler. Ten s nimi ovšem nešetřil při vyvražďování Židů v koncentračních táborech (cyklon B). A jak známo, vrcholní pohlaváři si zas pro případ zajetí dávali kapsli kyanidu pod jazyk… Jenže pozor – velká část takto "proslavených" chemikálií se běžně dosud užívá a není těžké si je obstarat, některé i podomácku vykouzlit se soupravou "malý chemik"! "K dispozici je asi 100 různých otravných látek. Je také možné zneužít asi 1000 druhů chemických látek běžně užívaných v průmyslu."
Otravné látky se standardně dělí do čtyř skupin s potenciálem zabíjet: nervově paralytické, dusivé, obecně jedovaté a zpuchýřující…
Sarin, tabun, soman, látka VX – nervově paralytické: Mohou být cítit po ovoci, mandlích, kafru nebo nijak. Nespoléhejte, že byste je v metru rozpoznali. Všimnete si až nápadného zúžení zornic spolucestujících, na sobě pak zhoršeného vidění, okamžitého zahlenění, slinění, pocení, těžkého dýchání. Po chvíli zvracení, pomočení, křečí. Při dostatečné koncentraci způsobí paralýzu vedoucí k zástavě dechu po vdechnutí v řádu minut, po průniku kůží v řádu hodin. Pokud tedy nemáte masku a ochranný oděv, resp. rychlou nemocniční péči a přístroje, které budou dýchat za vás. Když na sobě a lidech kolem zpozorujete takové příznaky, okamžitě – jestli tedy můžete – utečte pryč. Jedinou útěchou může být, že vyrobit tyto látky, vyžaduje skutečně zručnějšího studenta chemie. Hm…
Fosgen, disfosgen – dusivé: Máte rádi vůni čerstvě pokoseného sena? Pokud ji cítíte ve městě, široko daleko žádná louka, okamžitě zmizte! Patří k plynům, které se ve velkém vyrábějí pro průmyslové účely, je tedy relativně dostupný. Po jeho vdechnutí se dusivě rozkašlete a máte pocit jako při infarktu (pálení a tíha na prsou). Ostatně, postupně vám otékají, zpuchýřují a praskají plíce. Při nízkých koncentracích se to projeví třeba až za pár hodin. To naopak nikam neutíkejte, musíte být v klidu a v teple.
Kyanovodík – obecně jedovatý: Že zapáchá po hořkých mandlích, si snad z filmů pamatuje každý. Průmyslově se hojně vyrábí a získat jej "po domácku" také není nijak složité. Při lehké otravě pocítíte slabost, bolest hlavy, z počátku povzbuzené dýchání. Jak postupuje rychlá otrava, je obecně známo – bezprostřední bezvědomí, křeče, zmodrání, šlus. Pokud můžete, zamořené místo ihned opusťte a vysvlečte i oblečení. Vdechujte pak páry amylnitritu. Cože? Ale jo, dali jste si někdy na povzbuzení  tzv. poprs, reps. poppers? No taková lehká rekreační droga, odpařující se roztok v malých lahvičkách. V medicíně se používá na rychlé zvládnutí příznaků ischemické choroby srdeční (angina pectoris, infarkt – možná to má vaše babička). …Zatímco u předchozích plynů potřebujete masku, tak amylnitrit se dá nosit v KáPéZetce, no ;-)
Yperit – zpuchýřující: Bývá cítit po česneku, ale to v ranní špičce kdejaký cestující, který posnídal chléb s česnekovou pomazánkou. Zasáhne vaši kůži a příznaky se projeví klidně až za několik hodin – jsou to popáleniny, takže kůže svědí, pálí, otéká, zpuchýřuje. Po vdechnutí může stejně jako u fosgenu dojít k edému plic. Při pozření vás ukrutně začne bolet břicho, neustále zvracíte, máte krvavý průjem. Nečekejte, až to zvracení přijde samo a vyvolejte jej bezprostředně. Kůži si omývejte slabým roztokem zažívací sody. Oděv očistíte vápnem nebo Savem (chlornan sodný).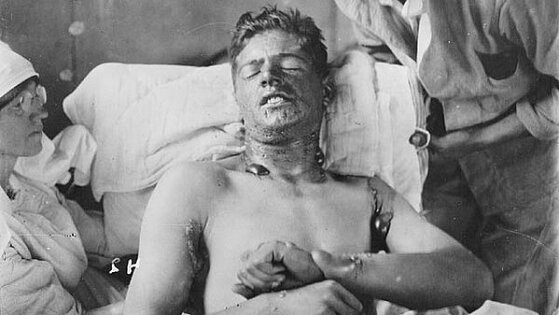 Chlor: Když to někde začne být cítit jako v bazénu, tak zbystřete. Budou vás pálit oči, budete kašlat. Při velké koncentraci dojde k otoku plic. "V každé průmyslové zemi, v každém větším městě se nachází velké množství chloru… V ČR se běžně přepravuje po železnici ve velkých cisternách." Je opět třeba dostat se co nejrychleji mimo jeho dosah. A dát si zažívací sodu. Ostatně do jejího roztoku můžete namočit i kus látky, přes kterou budete dýchat. K očistě těla pak stačí voda a mýdlo. Ale nepodceňovat – právě tato látka zahájila chemickou válku a zabila v zákopech nesmírné množství vojáků.
Čpavek (= amoniak): Zrovna minulý týden se nějaká třída základní školy vrátila z bruslení na ledním stadionu přiotrávená čpavkem. Jeho zápach by přitom měl každého spolehlivě vyhnat – smrdí jako zatuchlé kvasící chcanky (dneska už bývají i veřejné toalety na úrovni, v rozpoznání daného zápachu je zkušenější starší generace). Dráždí oči, kůži a především dýchací cesty, ve velké koncentraci může způsobit zástavu dechu a otok plic. "Čpavek je nejběžnější chemikálie běžně používaná v celém hospodářství… k chlazení a hnojení. Běžně se přepravuje po komunikacích a železnici." Zasažený prostor je nutné opustit a být v klidu. Pomůže látka namočená v octu, citronové šťávě nebo jen vodě před ústa. Oděv umyje voda a mýdlo.
Tak, to byl tedy základní vhled od otravných bojových látek, jichž se sice (aspoň formálně) vzdaly armády vyspělých zemí, ale nikde není záruka, že je nevyužijí bojovníci Islámského státu. Vlastně je proti nim použil i syrský prezident Asad a jen Alláh ví, zda se při ofenzívě k nějakým jeho zásobám islamisté nedostali. I kdyby ne, mnohé lze snadno vyrobit nebo přečerpat z cisterny na vlakovém nádraží. Bohužel. Jestli přemítáte, zda si koupit plynovou masku – i s adekvátním filtrem nepochodíte za méně než 3000-4000 Kč. A budete ji opravdu nosit v brašně přes rameno? Spíše si zapamatujte, jak který plyn poznat (pokud to lze) a jak pomáhat zasaženým (většinou klid). A ano, ve své krabičce poslední záchrany můžete začít nosit roušku, poprs, roztok zažívací sody a ocet.
Zítra budeme v tématu pokračovat, probereme si "biologické zbraně" – překvapivě mnoho těch pro nás vymýcených sem mohou zavléct migranti, současně ale teroristům stačí naházet do studen naše zajíce sražené u silnic… Jinak citován byl Ing. Miroslav Kroupa (hasič), konkrétně jeho příspěvek v knize Terorismus a my vydané v reakci na 11. září, z níž ostatně průběžně čerpám.
Přehled všech dílů:
POSTAPO / TERORISMUS – mimořádná série, jak být připraven na řádění teroristů (1)
POSTAPO / TERORISMUS – jak být připraven na řádění teroristů (2) – chemické zbraně
POSTAPO / TERORISMUS – jak být připraven na řádění teroristů (3) – nemoci
POSTAPO / TERORISMUS – jak být připraven na řádění teroristů (4) – mentální příprava
POSTAPO / TERORISMUS – jak být připraven na řádění teroristů (5) – ověřeno v praxi
POSTAPO / TERORISMUS – jak být připraven na řádění teroristů (6) – osobní vybavení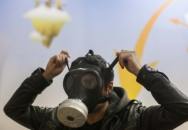 Pro přidání komentáře musíte být přihlášený.