POSTAPO / TERORISMUS – jak být připraven na řádění teroristů (4) – mentální příprava
Co dělat při teroristickém útoku? Dva dny jsme rozebírali, jak by vypadalo použití chemických a biologických látek. Ale škála teroristických útoků je širší – zatím nejčastěji střelba a bomby. Záleží na tom? Čekáte, že dostanete manuály? Prvořadě si musíte sami vytvořit mentální scénáře a návyky.
Mentální příprava
Prvořadé je, jak zafunguje vaše psychika. Možná se vám do těla vyplaví adrenalin a vezmete nohy na ramena v novém světovém rekordu. Možná ale naopak zamrznete, schoulíte se do klubíčka, nebudete schopni pohybu. Obojí bude pudové - utíkat sice můžete, ale dost možná k uzamčenému východu. Smůla. Šanci překonat tuhle přirozenost máte, jen pokud zapojíte rozum. Jenže přemýšlení chvíli trvá, proto potřebujete vylovit nejvhodnější scénář z paměti. A tam se musí nejprve dostat…
Takže hlavní přípravou je mentální trénink. Jeho první částí je představování scénářů.
Když jedete do práce, když sedíte sám na obědě nebo máte jinou dlouhou chvíli, prostě si to představujte. Jak bouchne vlaková souprava stojící ve stanici naproti té vaší. Jak do hospody vejde týpek s pistolí v ruce. Jak do autobusu nastoupí šílenec máchající mačetou. Že jste na Chinaski v Lucerně a stane se tam totéž co v pařížském klubu Bataclan.
Přehrávejte si to jako film, resp. počítačovou hru, ale realisticky. Vrhejte se schválně i do řešení, po kterých následuje game over. Mám zbraň, tasím ji na teroristu, ale než natáhnu, druhý, kterého jsem přehlédl, mě trefí do zad. Nebo se naopak přikryju někým, kdo už to má za sebou, jenže teroristi začnou kropit ty na zemi, aby měli jistotu. Hledejte rizika a porovnávejte je. Pro dobrou náladu si to přehrajte i v roli Bruce Willise, kdy ty šmejdy vymlátíte všechny, ale v praxi si na akčního hrdinu samozřejmě hrát nebudete.
Mimochodem, tato metoda je také velice důležitá pro schopnost poskytovat první pomoc. Nebo improvizovaně použít, co nosíte v batohu. Schválně si přiznejte, kolikrát jste se po něčem sháněli, přitom to měli v té své KáPéZetce. Nosit u sebe věci, na které jste zapomněli, že je máte, popř. je ani neumíte použít, je stejné, jako je nenosit.
Druhou částí mentálního tréninku je pozornost a bdělost.
Mám na mysli to, čím se vyznačuje Sherlock Holmes, detektiv Columbo a všichni ti filmoví agenti CIA. To znamená zvednout oči od mobilu a zhodnotit okolí. Na každé zastávce se podívejte, kdo přistoupil. Někdo se vám nezdá? Sledujte ho dál, hledejte detaily (skrytá zbraň), máte-li špatný pocit, na další zastávce vystupte nebo si poposedněte. Na každém nádraží, úřadu, obchoďáku, hotelu atd. si už při příchodu vytvořte prostorovou mapu východů nebo přirozených krytů. A zase to spojte se scénářem – když jeden terorista začne pálit na nástupišti, druhý může na lidi čekat v podchodu. Nemusíte za každou cenu utíkat s davem.
Taky stáhněte hlasitost té muziky, která vám jde do sluchátek, protože nevnímáte jen zrakem, ale i sluchem. A čichem - že je důležité zbystřit, když uprostřed města cítíte čerstvě pokosené seno, jsme tu psali předevčírem. Nejhorší, co můžete dělat – a to i z hlediska přepadení nějakým pobertou – je kráčet s hlavou skloněnou k mobilu, přes hlavu mít kapuci, slyšet jen tu muziku a druhou ruku mít v kapse. Stáváte se tak snadnou první obětí, stejně jako devadesátiletý stařeček o holi. Vždyť vy nijak nezareagujete, resp. se zpožděním, které bude fatální.
Na druhou stranu, zkuste jeden celý den být ve střehu nebo aspoň mít přehled o okolí - bude to náročné na sebekázeň a také vyčerpávající. Proto právě musíte trénovat. Je to podobné, jako když usilujete o lepší fyzičku, tzn. potřebujete plán, začít po malých dávkách a zátěž postupně zvyšovat. První týden se takhle soustřeďte jen při ranní cestě. Další týden i při cestě z práce. Sledujte své myšlenkové pochody a pocity. Co vás znepokojuje? Co nejvíce narušuje vaše soustředění? Pokud jezdíte s kolegou, zapojte ho do téhle hry a navzájem se zkoušejte z toho, co jste si zapamatovali. Kdy nastoupil chlap s brýlemi a dlouhým kabátem? Až budete mít volný den, vystupte na každé zastávce té každodenní trasy, prohlédněte její okolí, únikové cesty, přirozené kryty. Víte o nich vůbec na svém pracovišti? Ve čtvrti, kde bydlíte?
Co dál promýšlet a cvičit
Spousta lidí má v ČR legálně zbraň. A hodně si teď už opravdu řeklo, že si ten zbroják udělá. Fajn, ale pak je nutné s ní umět zacházet. A tím nemyslím sborku rozborku a statickou střelbu na terč ve vzdálenosti, z níž snad ani nelze minout (což jsou ovšem požadavky, které právě k získání zbrojního průkazu stačí). Jestli to myslíte vážně, tak musíte tisíckrát opakovat tasení, přebíjení, hlavně ale dynamickou střelbu, nejlépe třeba v rámci soutěží LOS (jukněte na www.gunlex.cz). A ruku v ruce se svou aktuální střeleckou dovedností si tvořte ony mentální scénáře.
Minulé články zase vyvolaly zájem o plynové masky a související ochranné prostředky. Je celkem jedno, jestli máte masku, roušku nebo byste v případě chemického útoku použili kapesník, plavecké brýle a turistickou pláštěnku. Ale víte, jak je nasadit, v jakém pořadí, jak je sundat? Je nutné to trénovat – jak fyzicky, tak opět i mentálně. Jedu v metru, cítím plyn, jde z druhého konce vagónu, lidi tam už kašlou, někdo zmáčkl nouzové tlačítko… co dělám? Nasadím roušku a dál? Můžu otevřít okno? Projít do dalšího vagónu? Ne? Je to pořád o tomtéž - musíte to promyslet od A do Z a v několika variantách, ten vlak může zastavit v další stanici nebo taky ještě v tunelu atd. atp.
To není o tom, že někdo vydá příručku, v níž popíše typové scénáře a pro ně ideální řešení. Tedy mohl by, knižní hit by to asi byl, ale k praxi by to mělo daleko. Určitě ale googlujte výpovědi přeživších teroristických útoků za posledních dvacet i více let. Tím si rozšíříte rejstřík variant, které kdy nastaly a budou se odehrávat podobně i v budoucnu. A především uvidíte, jaké taktiky dávají největší šanci na přežití. Jistou typologii tam vysledovat lze a na to se právě zaměříme v zítřejším článku. 
Přehled všech dílů:
POSTAPO / TERORISMUS – mimořádná série, jak být připraven na řádění teroristů (1)
POSTAPO / TERORISMUS – jak být připraven na řádění teroristů (2) – chemické zbraně
POSTAPO / TERORISMUS – jak být připraven na řádění teroristů (3) – nemoci
POSTAPO / TERORISMUS – jak být připraven na řádění teroristů (4) – mentální příprava
POSTAPO / TERORISMUS – jak být připraven na řádění teroristů (5) – ověřeno v praxi
POSTAPO / TERORISMUS – jak být připraven na řádění teroristů (6) – osobní vybavení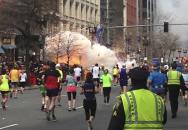 Pro přidání komentáře musíte být přihlášený.