POSTAPO / TERORISMUS – jak být připraven na řádění teroristů (5) – ověřeno v praxi
Co dělat při teroristickém útoku? Včera jsme si popsali, jak se připravit mentálně - promyslet potenciální průběh útoku a možnosti vlastní reakce v boji o život. A naučit se ostražitosti. Dnes si rozebereme pár taktik, které se v minulosti napadeným vyplatily. Nebudou univerzální, ale aspoň něco.
Ověřeno praxí
Je zapotřebí rozlišovat útoky podle toho, kde a jak se odehrávají. V prvém případě jde především o to, zda vás zastihnou v uzavřeném prostoru nebo na venkovním prostranství. V druhém případě pak o způsob provedení útoku – výbuch, střelba, chladné zbraně, chemikálie… A kolik se na něm podílí teroristů a jakých – my se zabýváme těmi islámskými (specifika jsme popsali v úplně prvním článku).
A propó, tedy teroristé - na chvíli se do nich budete muset vžít. Představte si, že chcete:
Zabít co nejvíce osob (ne jen zranit, do skóre se počítají jen mrtví bezvěrci),
co nejdrsnějším a nejpodlejším způsobem (ten tedy nemusí být nutně nejefektivnější),
abyste vyvolali co největší paniku a strach (ne v daný moment, ale ještě týdny po útoku),
proto neberete rukojmí, nevyjednáváte a neznáte slitování (leckdy ani se souvěrci),
pro což jste připraveni obětovat svůj vlastní život (v ráji na vás čeká kopa panen),
tudíž jste ve svém řádění limitováni jednak časem (příjezd policejního odstřelovače),
jednak dostupnými vraženými prostředky (co je po ruce, než vám dojde trpělivost nebo pokyn naplnit svůj osud).
Samozřejmě můžete být přeci jen slabší povahy a svého vlastního života si cenit, takže nastražíte bomby a zdejchnete se, což si pro sebe omluvíte tím, že aspoň budete moci vraždit v budoucnu znovu. Když je vám pak ale policie v patách, pokusíte se sejmout co nejvíce jejích příslušníků, stát se mučedníkem se vší pompézností, čímž naplníte své domnělé životní poslání. Bum.
Jak se to promítne do realizace útoku?
Vyberete místo s vysokou koncentrací lidí (bezbranných civilistů), kteří mají malé možnosti utíkat/schovat se a zraněné budete "dorážet",
jakkoli vás to zdržuje, při střelbě budete mířit na hlavy a střed trupu, při bodání nožem zasadíte jednotlivci i několik ran, bombu zkonstruujete tak, že nebude mít nutně dlouhý dosah, ale v blízkosti smrtící, rozešlete lidem antrax v obálkách atp.,
zvolíte veřejné místo, náhodně bez zvláštní symboliky, ne parlament, ne kasárna, ale veřejný prostor a svým plánem nebudete dopředu vyhrožovat a něčím jej podmiňovat,
nebudete rozlišovat své oběti, brát ohled na nářky nebo nabízené úplatky,
budete zabíjet do poslední vteřiny a pak se pokud možno vyhodíte do vzduchu s těmi, kdo jsou ještě poblíž.
Tímto stručným vhledem do strategie islámského teroristy jste si patrně odpověděli na řadu otázek, jako kde vás jeho útok může zastihnout (všude a zejména tam, kde byste to nečekali) a jak asi bude probíhat (naprosto nemilosrdně a z vašeho pohledu iracionálně). Přesto existují taktiky, jimiž se můžete pokusit bojovat o svůj život a osvědčily se… Zkušenosti s nimi mají především Izraelci, což nepřekvapuje. Nejsou 100%, ale dávají vám naději na přežití s vyšší pravděpodobností než volba jiné taktiky…
Střelba/nůž v malých uzavřených prostorech – zejména dopravní prostředky, restaurace…
Když do vagónu přistoupí týpek s kudlou nebo pistolí a všichni cestujících "zmrznou" (ve snaze nějak se domluvit?), tak jsou KO. Stejně jako když se "splaší" a natlačí se na úzké dveře do druhého vozu – než se protlačí, je "zadní voj" KO. Musí se najít jeden hrdina, který reaguje protiútokem (u nože je to 40:60, u pistole 10:90), teroristu zaskočí a moment překvapení může umocnit pokřikem Aláhu Akbar.
Každopádně, aby jeho odvaha měla smysl, musí se za ním vrhnout další. Čím víc, tím líp. Terorista má jen jedny ruce – a ty je nutné čapnout – aby dál nestřílel, nebodal, nemohl odpálit případnou trhavinu umístěnou na svém těle. Teroristu co nejdříve zabít a pak rychle pryč. Jestli toho někdy budete svědky (a nebudete ten první), tak proboha neváhejte. Povzbuďte další radostným výkřikem "Dáme mu do držky! Buď my, nebo on!", protože když nebudete následovat toho prvního, tak bude rychle po něm a vzápětí i po vás.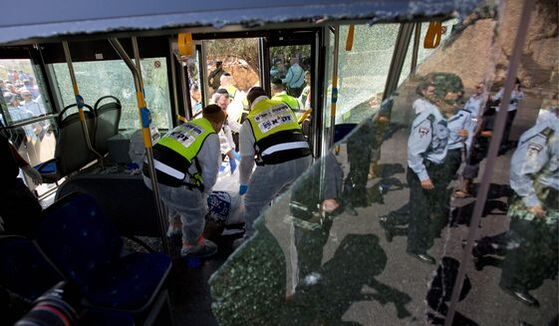 Samozřejmě je-li možnost, nějak si se spolucestujícími, kteří vypadají "od rány", naznačte mimikou, gestem, hlasem, že do toho jdete, ať je ten protiútok aspoň trochu koordinovaný. Takže ještě jednou, drsně a jasně – když už máte umřít, ať je to kulkou v prsou a ne v zádech. Efektivní v malém prostoru je kolektivní akce, k níž se musíte přidat a strhnout ostatní.
Střelba ve velkých vnitřních prostorech a prostranstvích…
Tady platí pravý opak, nebudete se proti teroristovi rozbíhat z deseti metrů a hrát si na hrdinu. V první řadě se musíte krýt. Ne utíkat v dráze kulek, leda stojíte přímo u východu a víte, že vy proběhnete, zatímco kryt vám dělají ti za vámi. Což bohužel nevylučuje, že u východu nečeká druhý terorista, takže včas zpomalte a pusťte pár lidí před sebe. Taky se nebudete schovávat někam, odkud pak nemáte únikovou cestu a jen čekáte, až si pro vás terorista dojde (záchod, stůl). Pudové přikrčení? Jen pokud nejste v první řadě a jen na první chvíli, než přes vás začnou další padat.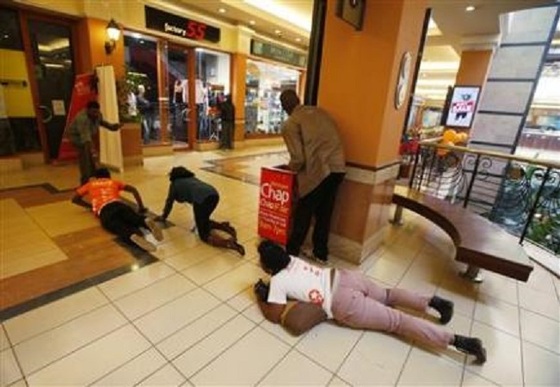 Nemáte-li v nejbližším dosahu pevný kryt a před vámi už to někdo odnesl, použijte jeho tělo jako štít. Ale je to krajní nouze – sic! hodně lidem prošlo, že předstírali mrtvé a lehli si mezi ně, je to spíše poslední možnost (až zbytek prchne, teroristé se začnou přesvědčovat, že ti na zemi už nedýchají). Pokud byste něčí tělo před sebou jako štít táhli, uvažte, zda vás to nezpomalí neúměrně vzdálenosti krytu. A pak samozřejmě průbojnost použitého střeliva (u AK-47 si opravdu nepomůžete).
Důležité je, udržet si přehled o situaci. Zase platí, že lepší kulka v prsou než v zádech. Nejste nemyslící pohyblivý terč. Musíte teroristy vidět a vědět, co dělají, kam se pohybují, jakým směrem střílí. Když jste jakýmkoli způsobem kryti, tak hledejte další kryt nebo aspoň něco, co před sebe zase můžete dát (odpadkový koš). Přebíhejte, když terorista střílí jiným směrem nebo když přebíjí. Nehrňte se za davem, který se pravděpodobně zasekne ve dveřích nebo v průchodu. A kde na něj může čekat další terorista. Hledejte alternativu, zadní východ (včera jsme napsali, že po příchodu do každého prostoru máte věnovat pár sekund omrknutí únikových cest a vytvořit si v mysli prostorovou mapu).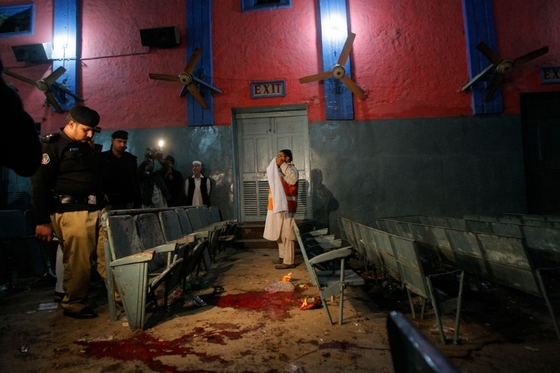 Samozřejmě velkou roli hraje povaha prostoru. Třeba takové kino, divadlo – to je peklo. Moc dobře víte, jak zdlouhavé je protáhnout se uličkami, kde už někdo sedí. Vlastně je to na úrovni malého uzavřeného prostoru (vagón), ale nečekejte, že lidé se místo k východu budou vrhat na teroristu, tady jim to nedojde. Takže jinak - zvolil-li takové místo terorista kvůli jeho strukturaci, tmě, nepřehlednosti – učiňte si z nich také svoji výhodu. Terorista bude pálit do těch, kdo vstávají, kdo běží do stran, co nejdále od něj, k východu, na to, co se pohne. Vy se v tom zmatku můžete plazit k němu, protože pod svícnem je největší tma.
…
Výbuchy
Když to blízko vás bouchne, tak s tou samotnou explozí nic nenaděláte. Jste-li blízko (a nejste mrtví), povalí, popř. odhodí, vás tlaková vlna. Pokud vás netrefil šrapnel, jste minimálně otřeseni, zřejmě vám teče krev z uší kvůli proraženým bubínkům. Moc tedy neslyšíte a v očích máte prach. Můžete mít zhmožděné orgány, dokonce vnitřní krvácení. Mohly vás pořezat střepy. Je ticho, až po pár vteřinách začínáte slyšet nářek stupňující se v řev. Všechno kolem je šedivé od prachu včetně vás samých. Postupně tím prachem prostupuje krev.
Soustřeďte se na sebe. Dýchejte. Mohlo vám to vyrazit dech, tak ho musíte popadnout. Chvíli potrvá, než se pohnete, což je vlastně dobře. Na zemi jste v relativním bezpečí pro případ dalšího výbuchu i střelby. Zhodnoťte svůj stav – můžete se pohybovat? Zhodnoťte okolí – ne ty zraněné kolem, ti zbytečně odvádějí vaši pozornost – vy ale potřebujete najít nejkratší a současně nejbezpečnější (krytou) cestu do bezpečí. Plazte se a umožní-li to situace a váš stav, utíkejte pryč. I při relativně těžkých zraněních toho budete v prvních chvílích schopni, než se definitivně zhroutíte. Proč se o to máte pokusit? Protože statika objektu může být narušená, výbuch mohl roznítit požár.
Když se nemůžete z prostoru jednoduše dostat, schovejte se pod stůl. Kdyby přišel další výbuch/zhroucení konstrukce, budete aspoň nějak kryti. Proto se také držte dál od předmětů, které mohou vzplanout nebo se dodatečně roztříštit (cokoli skleněného). Opět opakuji – nehrňte se splašeně s davem, na hlavní únikové cestě mohli teroristé rozmístit další nálože. Také si uvědomte, že v důsledku exploze mohl začít unikat plyn – jestli je tam tma, tak si opravdu nesviťte zapalovačem. A raději vůbec, protože byste akorát přilákali pozornost teroristy, pokud tam je ještě další.
…
A tak bychom mohli pokračovat. Existuje na to spousta anglicky psaných webů, třeba v USA byla vydána taktická doporučení pro případy tzv. aktivního střelce ve školní třídě nebo obchodním domě. A vůbec jsou tam v přípravě obyvatelstva dále a leckdo se této problematice věnuje. Podívejte se třeba na www.secretsofsurvival.com.
Jak jsem ale varoval, situace je vždy tak specifická, že lze těžko tvořit návody pro konkrétní scénáře. A pokud je někdo sepsal, tak je nemůžete brát jako dogma. Od toho je prostě mentální trénink (viz včerejší text) a pak šťastná (ovšem racionální, poučená) volba, když se vám to opravdu přihodí.
V tomto článku jsem záměrně vynechal útoky chemickými a biologickými zbraněmi. Věnovali jsme jim dva dny a tam prostě platí, že musíte zamořený prostor co nejdříve opustit. O špinavých bombách – radioaktivitě – jsem ještě ani nepsal, ale tam platí totéž. Vím, ptali jste se po maskách a filtrech. Odpovím víkendovým článkem – sestavíme si takové protiteroristické Krabičky poslední záchrany.
Celkově vzato - tento týden jsem věnoval tomu, co dělat v prvních minutách. A protože je zájem, tak v dalším týdnu probereme, co dělat v těch dalších minutách a hodinách. Jak se ošetřit, než dorazí záchranáři, nebo dekontaminovat. Jestli vám články, které už vyšly a pak i ty, co vyjdou, přijdou užitečné, mám na vás velkou prosbu. Jeden po druhém je sdílejte na svých faceboocích – je sice fajn mít výhodu, že vy víte a ostatní by se jen pomateně motali a dělali vám štít, ale taky jsou situace (viz výše), kdy by se k vašemu přežití hodila jejich spolupráce. Tak aby to věděli.
Přehled všech dílů:
POSTAPO / TERORISMUS – mimořádná série, jak být připraven na řádění teroristů (1)
POSTAPO / TERORISMUS – jak být připraven na řádění teroristů (2) – chemické zbraně
POSTAPO / TERORISMUS – jak být připraven na řádění teroristů (3) – nemoci
POSTAPO / TERORISMUS – jak být připraven na řádění teroristů (4) – mentální příprava
POSTAPO / TERORISMUS – jak být připraven na řádění teroristů (5) – ověřeno v praxi
POSTAPO / TERORISMUS – jak být připraven na řádění teroristů (6) – osobní vybavení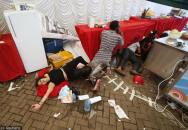 Pro přidání komentáře musíte být přihlášený.