POSTAPO / TERORISMUS – mimořádná série, jak být připraven na řádění teroristů (1)
Kdo jste dnes čekal 3. díl seriálu o post-apokalyptických situacích, tak se jej dočkáte za týden. Po útocích v Paříži je mnohem více aktuální připomenout, co a jak dělat, ocitnete-li se ve středu teroristického útoku. A vydá to na články od pondělí do pátku, první je o povaze islámského terorismu vůbec.
Vážně se obávám, že hodně lidí, zejména pak politiků, terorismus, zvlášť ten islámský, jaksi nechápe. To je samo o sobě nebezpečné. Přidáme-li k tomu, že drtivá většina občanstva nezná (a necvičí) žádné postupy pro konkrétní situace teroristických útoků, jejich výsledky (a z prvního důvodu jich bude přibývat) mohou být tragičtější, než by musely.
Tedy aspoň u nás nebo třeba v Německu. Ve Francii je situace přeci jen trochu "lepší", protože nešlo o první útok, takže Pařížané byli v "mezičase" připravováni. Určitě jste si v televizních záběrech všimli, že byli relativně klidní, racionální. Žádné hysterické nářky a panika. V klubu Bataclan si hodně lidí zachránilo život hraním mrtvých, popř. celkem uspořádaným využitím únikových východů. K tomu všemu se tento týden dostaneme, ale musíme to vzít od základu…
Chápání islámského terorismu
Na jedné straně si řekněme, že tu nějaký terorismus, ve smyslu politicky motivovaný atak na nezúčastněné osoby vyvolávající celospolečenský strach a vydírající politické reprezentace, byl vždy. Vzpomeňte na irské a baskické separatisty. Jejich motivům jsme celkem dobře rozuměli. Jakkoli jejich jednání bylo ve velké míře také fanatické, iracionální, přesto vedeno nějakými veřejně deklarovanými a uskutečnitelnými cíli. Jenže k tomu, co se děje dnes, hodně lidí klade otázku: Proč? Co jsme jim udělali? Čeho chtějí dosáhnout?
Odpovím: Je v tom závist, resp. nepřejícnost, vážení. Když má soused vykrmenou kozu a já ne, ať mu ta jeho chcípne. Tohle je filosofie drtivé části obyvatel chudých a chudších zemí. U muslimů posílená jejich fatalistickou vírou v Alláha, která ústí v rezignaci na snahu svou situaci sám zlepšit. A také nereformovatelností islámu, takže Alláhovy ovečky na jedné straně mají žít podle starověkých pravidel, na druhé straně by rády měly tytéž výdobytky jako západní společnost, která ovšem prošla celkovou modernizací.
"Je spravedlivé, aby muslimské země, které kdysi vytvořily tak mocnou a ve světovém měřítku vlivnou civilizaci, hrály ve vztahu k Západu až třetí nebo čtvrté housle? … Je samozřejmé, že takovéto otázky si nekladou negramotní afričtí nebo asijští chudáci, ale jejich inteligence vzdělaná na západních školách a univerzitách. Usáma bin Ládin je toho nejlepším příkladem. Všechny tyto otázky spolu s pochopitelným lidským zoufalstvím mohou vést k té nejjednodušší odpovědi: Když ne já, pak ani oni."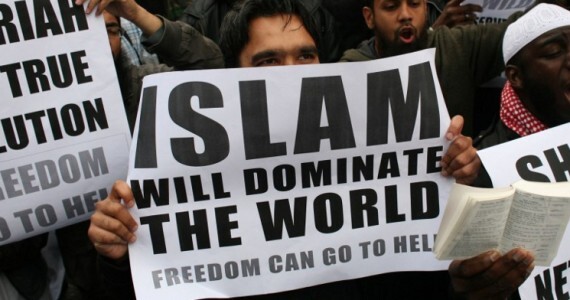 Takže, islamistům nejde o nic menšího, než nás zničit! V porovnání s tím se bývalé krvavé dohadování o Severní Irsko jeví jako čajový dýchánek. Islamisti si nedají pokoj, když jim pošleme více rozvojové pomoci nebo uznáme jejich stát. A současně je v celé oblasti třetího světa, kde převažuje muslimské obyvatelstvo, obrovský potenciál přidat se k islamistům spíše než k nám. Ti lidé tam budou relativně spokojení, až si budou žít jako my a budou nám vládnout – a to dost dobře v blízkém časovém horizontu nelze a snad to ani nedopustíme (lépe se samozřejmě mít mohou, ale v tom jim brání jejich víra a obecně kultura).
"To, že země západního kulturního okruhu patří k bohaté části světa, má své příčiny v cestě, kterou se dějinami západní kulturní okruh ubíral. Jiné kultury usilovaly o něco jiného a také se k něčemu jinému dopracovaly." Zde stojí za poznámku, že filosof Václav Bělohradský i jiní poukazují na dopady kolonialismu a následné Studené války na dnes problematické země. Jenže historie běžela dávno před tím, než je Briti nebo Francouzi získali do své správy. Jednak nebylo náhodou, že tyto země nebyly schopné spravovat se a rozvíjet bez zásahů zvenčí, jednak bylo-li něco chybou, tak právě  zrušení kolonií.
Co ale tedy tak rozohňuje islamisty? To nejsou křivdy z koloniálních časů, ale naopak to, že se životní podmínky jejich spoluobčanů zlepšují, dohánějí Západ. "Islámští fanatikové se dnes obávají o čistotu své víry. Velice dobře totiž vědí, jak mocně přitahují miliony lidí z chudých islámských zemí západní konzumní výdobytky. Stejně dobře vědí (nebo si myslí, že vědí), že tuto touhu nemohou nijak ovlivnit. A tak se rozhodli, že jedinou cestou je pokusit se zničit tento "zhoubný" západní vliv."
Tak, snad jste trochu prohlédli, nu a od zítra už budeme probírat praktické postupy, jak další teroristický útok přežít. Jinak citován byl Miroslav Žák, odpovědný redaktor knihy Terorismus a my vydané v reakci na 11. září, z níž ostatně budu hodně čerpat i nadále.
Přehled všech dílů:
POSTAPO / TERORISMUS – mimořádná série, jak být připraven na řádění teroristů (1)
POSTAPO / TERORISMUS – jak být připraven na řádění teroristů (2) – chemické zbraně
POSTAPO / TERORISMUS – jak být připraven na řádění teroristů (3) – nemoci
POSTAPO / TERORISMUS – jak být připraven na řádění teroristů (4) – mentální příprava
POSTAPO / TERORISMUS – jak být připraven na řádění teroristů (5) – ověřeno v praxi
POSTAPO / TERORISMUS – jak být připraven na řádění teroristů (6) – osobní vybavení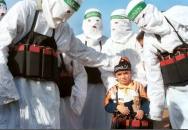 Pro přidání komentáře musíte být přihlášený.