Rozhovor s producentem a spolutvůrcem dokumentárního seriálu "Provedu! Přijímač" (nyní na ČT).
Nový seriál mapující podrobně kurz základní přípravy vojáka Armády ČR můžete sledovat již měsíc. ČT2 jej uvádí vždy ve středu od cca 22 hodin. Zbývají ještě tři díly a ty, které již byly vysílány, jsou dostupné online. Jak a proč seriál vznikal jsme se zeptali přímo jeho producenta a "duchovního otce" Pepeho Rafaje.
Kdy a proč Vás napadlo natočit tento dokument?
Poprvé mě to napadlo před lety v baru Bluelight, když jsem se zeptal jednoho chlapíka, jestli si místo Mattonky nedá pivo. Odpověděl mi, že ne, protože je bývalý mariňák. Vyprávěl mi pak svůj neuvěřitelný příběh. Když jsem o tom vyprávěl Radimovi Špačkovi, taky ho to zaujalo. Dohodli jsme se tedy, že natočíme dokument, jehož pracovní název byl "Cena za demokracii".
A povedlo se?
To bylo někdy v roce 2004. Nakonec jsme natočili dokumentů o armádě více. Nejdříve "Incoming!" o civilních jednotkách PRT (Provinční rekonstrukční tým) na základně FOB Shank (Forward Operating Base) v afghánském Logaru a potom dvoudílný dokument "Provedu: Afghánská mise", který dokumentuje činnost našich vojenských jednotek v Afghánistánu.
Jak dlouho jste tam s nimi byli? A jaké zážitky Vás nejvíce ovlivnily?
Když jsme natáčeli v Afghánistánu, začali jsme navíc točit film "Měděná hora" o měděném dole Mes Aynak, takže jsme tam v období dvou let jeli asi pětkrát. Z Afghánistánu mám několik hodně silných zážitků, o jednom dodnes nechci hovořit. Zásadní byl určitě třeba první incoming, tj. raketový poplach, na základně Bagram. Zastihl nás ještě před inprocessingem (vstupní školení), takže jsme vůbec nevěděli, že se to může stát a co dělat. Potom jsme je zažívali skoro denně, ale ten první byl nejsilnější. Klid a podpora vojáků byli základem pro to, že jsem chtěl vědět víc a pokračovat v natáčení dál a hlouběji.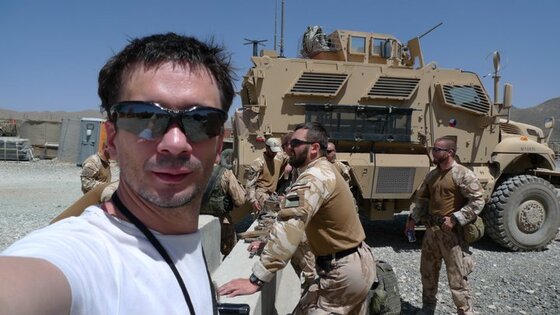 Změnila tahle zkušenost Váš vztah k vojákům?
Vojáci u mě mají obrovský respekt. Můj dědeček narukoval do první světové války, když mu bylo 18 let, a jeho dramatický příběh se u nás doma dodnes traduje. Chtěl jsem jeho život pochopit lépe, i proto se o vojenskou službu a válku dodnes zajímám. Pobyt na misi v Afghánistánu na mě nesmírně zapůsobil a vlastně i změnil pohled na život. Zjištění, že osudy českých vojáků na misích a onoho amerického mariňáka z baru jsou si podobné a obdivuhodné, bylo nakonec důvodem, že jsem se pustil do realizace mise "Provedu: Přijímač". Jen jsem netušil, jak bude složitá a dlouhá. O to víc jsem ji chtěl dokončit. Veřejnost by měla vědět o našich vojácích víc a uvědomit si, že na ně může být oprávněně čím dál víc hrdá.
Jak probíhalo domlouvání realizace nového dokumentu "Provedu! Přijímač", který nyní vysílá ČT? Trvalo to od záměru k realizaci léta, že?
Ano, přibližně 9 let. Sladit Ministerstvo obrany, Generální štáb, Českou televizi a náš štáb nebylo zprvu jednoduché. Nicméně se jednalo pouze o překonání komunikačního ostychu, k čemuž přispěly naše nezávisle natočené filmy z Afghánistánu, při nichž jsme vždy dodrželi všechny dohody s armádou. Vybudování důvěry založené na našem nadšení a upřímném zájmu bylo nutnou podmínkou pro pokračování. "Provedu! Přijímač" je delikátní projekt. Zajímali nás lidé, vojáci, v extrémních situacích.
Jak těžké je takový dokument financovat?
Financování "Provedu! Přijímač" nakonec pokryla ze 100 % Česká televize. Za to jí patří dík.
Jak dlouho natáčení trvalo a co obnášelo?
Samotné natáčení probíhalo tři a půl měsíce. Nejprve probíhaly předtáčky a pak natáčení samotného dvanáctitýdenního výcviku. Nicméně přípravy natáčení a následný střih byli dlouhé, takže pracemi na dokumentu jako takovém jsme strávili rok.
Kolik času jste na kurzu základní přípravy trávili? Jak náročné to pro štáb bylo?
Snažili jsme se na výcviku pobývat celou dobu, proto jsme měli dva štáby, které se po týdnu střídaly. Bylo to velmi fyzicky a časově náročné. Štáb musel splynout, být všude a přitom neviditelný.
Když i štáby de facto absolvovaly výcvik, jak jej hodnotíte? Je hodně náročný?
Řekl bych, že ano.  Během výcviku si sáhnete na dno svých sil. Pro mladého člověka, sportovce, by neměl být výcvik po fyzické stránce zas tak náročný. Podle mě však  armáda vyžaduje také velkou psychickou odolnost, jistou vyzrálost. Rozhodně považuji za správné, že vojna dnes není plošně povinná, mimo jiné právě proto, že v profesionální armádě je možné kontrolovat vysokou úroveň vojáků. I když historky instruktorů o zakopávání chlazených kuřat nových rekrutů jsou zábavné, ale i alarmující. Ještě před pár lety si rekruti byli schopni poradit s živým kuřetem.
Jak jste vybírali rekruty podstupující výcvik, na něž jste se soustředili? Nestyděli se před kamerou?
Způsob výběru byl klíčový, chtěli jsme mít zastoupení různých osobností a zároveň musel každý s natáčením souhlasit. Pro mě jako dokumentárního producenta, který se zabývá především pohledem zevnitř je nejdůležitější, aby kamera, kterou namíříme na děj, co nejméně změnila zachycenou realitu. Což ve skutečnosti vlastně není téměř možné. Kamera mění děj. Mění osudy lidí během natáčení a především po odvysílání. Takže souhlas hlavních představitelů nebyl postačující podmínkou. Vybírali jsme také tak, aby účast v dokumentu postavám nezměnila život, což se ale předem odhaduje těžko.
A máte už nějaké reakce? Jak od protagonistů, tak od diváků?
Já osobně jsem velmi překvapený, čekal jsem daleko větší kritiku. Zdá se, že náš záměr – jednota času, místa, silné postavy procházející náročnou zkouškou – byl naprosto správný. Divák se s postavami může identifikovat. Česká televize je také spokojená, máme překvapivě hodně diváků. Ale počkejme až do posledního sedmého dílu.
Připravujete nějaký další dokument z vojenského prostředí?
Ano, po "Provedu: Afghánská mise" a "Provedu! Přijímač" chystáme třetí sérii. Téma je ovšem ještě předmětem diskusí. Rozhodně chceme přijít opět s něčím překvapivým a důležitým.
Stránky pořadu včetně archivu odvysílaných dílů naleznete zde. Můžete také sledovat jeho Facebook.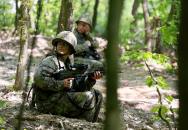 Pro přidání komentáře musíte být přihlášený.