Policie nedodržela vlastní zásady a postupy zákroku proti aktivnímu střelci.
Včera jsme zde napsali, že policie nese spoluvinu na úmrtí osmi osob v Uherském Brodě, protože první hlídka rezignovala na úkol šílence eliminovat. Okamžitě se strhla vlna protiargumentů ospravědlňujících policejní postup. Dokumenty přímo z dílny PČR ale dokazují, že hlídka měla zasáhnout.
"Poté, co budovu školy obsadili ozbrojení pachatelé – aktivní střelci, kteří bezhlavě stříleli po všech lidech, které v budově potkali, a ve škole vypukla panika, oznámil událost na linku 158 ředitel školy. Operační důstojník, který oznámení přijal, vyslal okamžitě na místo hlídky policistů, které byly k místu události nejblíže. Instruoval je o všem, co se od ředitele dozvěděl. Úkolem policistů bylo co nejrychleji v neznámé budově nalézt a zneškodnit všechny střelce a zabránit tak umírání a zranění dalších lidí – studentů, učitelů."(1)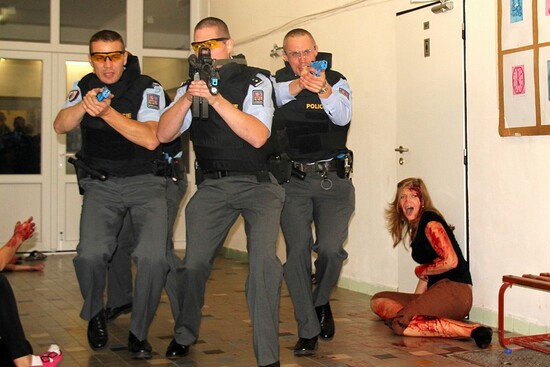 Policie nacvičuje zákrok proti aktivnímu střelci (zdroj PARDUBICKYKRAJ.CZ)
Citace výše popisuje scénář, který se velmi podobně odehrál již několikrát v zahraničí. Že se jednou něco podobného přihodí i u nás, se očekávalo. Proto v roce 2013 "policejní prezident uložil provést na každém krajském ředitelství policie cvičení zaměřené na téma "zákrok proti aktivnímu střelci"" (2). Výše popsanou variantu nacvičovali konkrétně pardubičtí policisté, a sice počátkem října 2014. Všimněte si, že se nikde nepíše o čekání na zásahovku, protože to v tomto případě nutně znamená nárůst počtu obětí.
Jak totiž vyplývá z policejní charakteristiky aktivního střelce, "jeho cílem bývá usmrtit co nejvíce osob ještě předtím, než bude zastaven policií nebo ukončí sám svůj život sebevraždou." Útoky přitom v průměru trvají 13 minut. A proto: "Policie ČR musí reagovat velmi rychle; prioritou na místě je okamžitá eliminace aktivního útočníka tak, aby mu zabránila v dalším pokračování jeho jednání; speciální policejní jednotky zpravidla zasahují až v druhém sledu." (2)
Nyní se podívejme přímo na policejní metodiku, aktualizovanou naposledy před pouhým rokem…
Činnost při řešení mimořádné události lze rozdělit do dílčích etap:
a) eliminace aktivního střelce, b) vyžádání součinnosti složek IZS v rámci eliminace aktivního střelce, c) záchranné a likvidační práce (zpravidla až po eliminaci aktivního střelce), d) psychosociální pomoc osobám zasažených MU, e) předání místa zásahu orgánům činným v trestním řízení.
Eliminace má nejvyšší prioritu a nesnese odkladu, přičemž příslušníci Policie ČR (dále jen "policisté") vůči aktivnímu střelci využívají všech zákonných oprávnění vůči "nebezpečným pachatelům" - při případném, velmi pravděpodobném použití služební zbraně dbají policisté přiměřené opatrnosti vůči ostatním přítomným osobám, aby neohrozili jejich životy a zdraví. (3)
A teď se podívejme na interpretaci NEzásahu krajským velitelem zlínské policie Jaromírem Tkadlečkem…
"Policisté dorazili na místo. Byli vystrojení neprůstřelnými vestami, které vozíme v našich služebních autech. Oba měli zbraň v ruce a přibližovali se k tomu prostoru…" Jak víme, vmžiku se od prostoru zase vzdalovali, což velitel omlouvá: "Je třeba si uvědomit, že pachatel měl situaci na rozdíl od nich zvládnutou a věděl, co se chystá. Zahájil na ně okamžitě palbu, policisté použili zákonné výzvy, na které pachatel nereagoval. Oba dva vyhodnocovali použití zbraně. Osoba ale střílela z protilehlého rohu restauračního zařízení, kryla se za barovým pultem a byla z ní vidět pouze hlava a ruka, která střílela ze střelné zbraně. Restaurace v té době byla plná různě ležících, sedících lidí, o kterých ti policisté nemohli vědět, jestli jsou živí, zranění nebo mrtví." (4)
Četl si pan Tkadleček a jeho podřízení onu metodiku? Opravdu je zaskočilo, že aktivní střelec byl aktivní, tj. střílel? Čekali, že uposlechne výzvu, aby toho zanechal? Střelecký trénink je u policie sice zanedbáván, ale opravdu je problém pálit na protilehlý roh, pokusit se trefit hlavu nebo ruku pachatele a naopak nezasáhnout oběti na zemi? Nakonec vyhodnocení stavu obětí se objevuje v obhajobě uprchlé hlídky jak v kontextu, že se bála zasáhnout žijící, tak že považovala všechny za mrtvé. Metodika ale podobné spekulace vůbec nepřipouští, zopakujme: eliminace má nejvyšší prioritu a nesnese odkladu.
Závěrem...
Vážení obhájci policejního zásahu v Uherském Brodě, o čem se tu chcete bavit dnes, jaké argumenty si vycucáte z prstu, jakými nadávkami očastujete autorku článku? Můžete pokračovat, ale nemůžete vyhrát. Většina vašich argumentů o průběhu události je v rozporu nejen s líčením svědků, ale dokonce i se sdělením krajského policejního ředitele. Autorce vyčítáte neznalost policejních postupů, naopak sami překrucujete policejní metodiku. A některé komentáře jsou opravdu děsivé - například upřímná neochota riskovat za policejní plat život nebo bezelstné vysvětlení, že máme více kategorií policistů, přičemž s některými by kolegové nešli společně ani na záchod, natož do zákroku.
Svádíte vinu na systém, finance, politiky – protože vám chybí vesty, zbraně, náboje a výcvik. Jenže tahle situace se cvičila a hlídka přiměřeně vybavena byla. Dalajláma řekl: Když poznáte, že jste učinili chybu, přijměte ihned kroky k její nápravě. Pokud nechceme, aby se uherskobrodské selhání opakovalo, bude si muset policie nejprve přiznat, že to selhání bylo. Když to neudělá, nebude důvod všechny ty uváděné "systémové" nedostatky zlepšovat. A příště se na ně vymluvíte zase. Ach jo…
zdroje
1)      http://www.policie.cz/clanek/cviceni-aktivni-strelec-2013.aspx
2)      http://www.unbr.cz/Data/files/Konf%20MEKA%202014/9%20Hofmanov%C3%A1.pdf
3)      http://metodika.cahd.cz/stc/STC%2014-IZS%20AMOK.pdf
4)      http://tn.nova.cz/clanek/proc-strelce-nezabila-prvni-hlidka-sef-policie-promluvil.html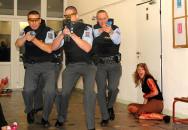 Pro přidání komentáře musíte být přihlášený.