POSTAPO – kulturní fenomén nebo i příprava na přežití? Díl 1 – úvod.
Tu zkratku jistě znáte, označuje stav po apokalypse. Tou se lidstvo zabývá od pradávna, protože když jednou vzniklo, tak jednou také zanikne. Je zde ale šance na přežití – třeba na Noemově arše – takže má smysl se připravovat a bojovat o život. Tento fenomén se rozšířil z náboženských úvah do tvůrčí kultury a posléze i do praxe. Dá se opravdu připravit?
Post-apo jako kulturní žánr
V literatuře a filmu se představy o apokalypse a životě po ní mění co do provedení podle dobového kontextu, ale princip zůstává. Střídají se přírodní katastrofy globálního rozsahu, jaderné války, útoky mimozemšťanů a pády velkých meteoritů, smrtící epidemie, probuzení mrtvých… – cokoli, co z lidstva činí ohrožený druh… Ti silní, odhodlaní a připravení přežívají.
Některá díla popisují vlastní průběh apokalypsy (např. Drtivý dopad, San Andreas), některé její hrozbu a jak se ji podaří v poslední vteřině odvrátit (třeba Armageddon). Jiné romány, komiksy a filmy líčí chod společnosti ve více či méně vzdálené budoucnosti, kterou od té dnešní odděluje právě nějaká ošklivá, bezmála fatální, příhoda. To už je tedy post-apo (typicky Šílený Max, Terminátor, 28 dní poté).
Pokud máte tento žánr rádi, tak věřte, že existuje blog, který nabízí ucelený přehled především oněch filmů a také mnohem podrobnější žánrové definice. Problém je, že film není návod, obvykle v něm hlavní hrdina přežívá díky shodě náhod, než-li svým vlastním přičiněním. Příklady praktického jednání, které si tak zaryjete do paměti, spočítáte na prstech jedné ruky. Přičemž klišé utíkat před tzunami na kopec bývá skoro vždy jedním z nich. A těžko říci, jak by to dopadlo, kdyby si ty další rady&tipy vzali na paškál Bořiči mýtů (což ostatně občas dělají).
Zase na druhou stranu, post-apo snímky dokáží obvykle velice věrně vylíčit nejen vlastní průběh katastrofy, ale rovněž chování lidí. Že někteří panikaří a jiní se odevzdaně naposled políbí na pláži, než je smete vlna, to je standard. Obvykle se k němu přidává rabování (nakrást si ještě den před smrtí?). Co se týče chování "poté", tak je třeba počítat opět s širokou škálou přístupů – od odevzdání se po umlácení soka, který má v kapse ještě kousek chleba. A kanibalismus. (K tomu si nemusíte ostatně pouštět post-apo, stačí Leningrad).
Post-apo jako praktický návod
Evidentně však přibývá lidí, kteří přemýšlejí, co by sami dělali a jak by se co nejlépe přičinili o přežití své a nejbližších. A ti se zabývají skutečně užitečnými postupy a také pravděpodobnějšími scénáři katastrof, druhdy lokálního rozsahu – ovšem první dny je to stejné. Takže od blackoutu, přes výbuch sic jen špinavé bomby, po apokalypsu se vším všudy (třetí světovou válku?). Záleží vlastně na úhlu pohledu – když se ocitnete v ničivém chaosu, neřešíte, zda je v něm ve stejný moment také zbytek světa.
V některých, zvláště pak odlehlých (ale Catrina byla v New Orleans), oblastech USA s častým výskytem tornád či hurikánů je nezbytnost, proto samozřejmost, se "předzásobit". V ČR by mělo být standardem předbalené evakuační zavazadlo – nejen v záplavových oblastech, protože hořet byt vám může začít kdykoli. Je otázkou, zda jít v úvahách a dokonce přípravách dále, zda je to známkou bujné fantazie nebo zodpovědnosti.  
Když navštívíte diskusní fórum www.rozpad.cz, uzříte skutečně širokou škálu situací a časových horizontů udržení se naživu. My se budeme držet pokud možno při zemi a použijeme členění: předvídaná lokální katastrofa a evakuace, krátkodobé a dlouhodobé násilí, náhlá katastrofa nebo útok středního rozsahu, apokalypsa. A tím jsme si v zásadě vytyčili, čím se budeme zabývat v dalších čtyřech dílech tohoto mini seriálu.
Takže za týden se do toho opřeme ;-) Můžete čekat nějaké ty zaručené rady&tipy, zajímavé odkazy pro další studium, ale i notnou dávku sarkasmu, bez níž pojednat o tomhle tématu snad ani nelze.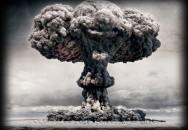 Pro přidání komentáře musíte být přihlášený.